Press
Writing about SCRUFF for your publication?
2017
USA Today - Aug 29, 2017
Take nude photos? What you can do to practice safer sexting
The Urbanist - Aug 1, 2017
Interview with Dan Savage, Part 1: Why Cities
Attitude - July 25, 2017
Gay men without platonic friends: Sex fiends or products of an ageist and asocial scene?
Times of India - July 23, 2017
Apps are changing the rules of gay dating in the city
Mannschaft Magazin - July 18, 2017
Berlin bleibt beliebt bei Bäre
Out & About Nashville - July 18, 2017
SCRUFF Founders to visit Nashville's own Tribe
Delaware Business Times - July 13, 2017
Rehoboth summer home for families, movies stars and LGBT community
He Said Magazine - July 11, 2017
Pink Traveler: Where the Gays Are This Summer
Visit Dallas - July 11, 2017
Dallas Ranks as Top 10 Destination for LGBT Summer Travel
Accidental Bear - July 10, 2017
SCRUFF Shares Video of first ever Delhi Bike Pride: Rain, Rainbow Colors, a Set of Wheels and a Strong Message of Equality
Hinudstan Times - July 8, 2017
Delhi's pride: Despite heavy rains, Capital celebrates first LGBTQ bike parade
Gay Star News - July 7, 2017
22 things to do in London over Pride weekend
Asian Age - July 2, 2017
Pride's Motocycle Diary
Slate - June 27, 2017
Can gay dating apps like SCRUFF create connections beyond the bedroom?
What's Hot - June 27, 2017
Delhi's First Bike Pride Is Happening In July And We're Shook!
Hindustan Times - June 27, 2017
Delhi's first LGBTQ pride parade on bikes taking place on July 2  
T2 Online - June 26, 2017
A pride parade on wheels – Here's all you need to know
Times of India - June 25, 2017
Delhi's First Bike Pride Rally on July 2
LBB - June 23, 2017
Go For This LGBTQ Pride Ride That's Going To See Everyone On Scooters & Bikes!  
Wired UK - Apr 27, 2017
Love in the time of Tinder – why you can't blame technology for a rise in affairs
AskMen - Apr 26, 2017
Best Gay And LGBTQ Dating Sites  
First Post - Apr 22, 2017
We Found Love In A Hopeless Place  
Le Journal de Montreal - Apr 21, 2017
J'ai quitté Tinder il y a 5 mois  
News Pingado - Apr 20, 2017
7 aplicativos gays para dar uma variada no cardápio  
Boston Globe - Apr 19, 2017
In a land of selfies and shots of lunch, poetry thrives 
Playbill - Apr 13, 2017
Columnist Michael Musto in Crosshairs of Celebrity Roast
Gay Times Magazine - Apr 12, 2017
New Delhi flash mob sheds light on LGBT+ community's ongoing struggle for equality
Gay Times Magazine - Apr 12, 2017
New Delhi flash mob sheds light on LGBT+ community's ongoing struggle for equality
Gay Star News - Apr 12, 2017
LGBTI flash mob in New Dehli wanted to send a message 'I am Queer. Yoga can't cure me'
NewNowNext - Apr 11, 2017
New Delhi Holds Its First "Dance For Pride"
Broadway World - Apr 10, 2017
Rosie O'Donnell, Bruce Vilanch, Randy Rainbow and More to Roast Michael Musto for Charity
Times of India - Apr 10, 2017
LGBTQ community members dance to dhol beats in flashmob
Buenos Aires Herald - Apr 7, 2017
Dating apps become the new norm in Argentina
Broadway World - Apr 6, 2017
LOVE ME TINDER – SWIPE RIGHT Dating in the Age of the Smart Phone
News Vulture - Apr 5, 2017
Here's Billy Eichner's Golden Rule for Your Dating-App Profile 
firstpost.com - Apr 1, 2017
Valentine's Day 2017: Six LGBT couples tell us how they make their relationships work
tetu.com - Mar 31, 2017
European Snow Pride : on était à la première Pride de l'année à Tignes
urbanmilwaukee.com - Mar 14, 2017
The Rise of Hookup Apps
VICE - March 13, 2017
Can Hookup Apps Inspire a Gay Political Renaissance?
The Atlantic - Feb 27, 2017
How Long Can Border Agents Keep Your Email Password?
instinctmagazine.com - Feb 20, 2017
U.S. Customs Block Canadian Man Because Of What Was On His Scruff Profile
Mashable - Feb 14, 2017
Turns out Tinder is not the best app if you want to get laid
The Hindu - Feb 13, 2017
… Love actually
thebody.com - Feb 7, 2017
Bruce Richman Is Totally Hot and Other HIV Activism Truths
outandaboutnashville.com - Feb 3, 2017
An overview of LGBT-oriented dating apps
sundial.csun.edu - Jan 30, 2017
Finding love online for LGBTQ students
Gizmodo - Jan 26, 2017
The Uncertain Future of HIV Treatment After the Affordable Care Act
2016
Time Out New York - December 21, 2016
Meet the Undateables: Joe and Danny
The New York Times - December 19, 2016
Review: The Wedding Guest as Hot Mess in 'Bright Colors and Bold Patterns'
Broadway World - December 19, 2016
Delhi International Queer Theatre & Film Festival Presented by SCRUFF
Têtu - November 25, 2016
Atteignez des sommets lors de la European Snow Pride
Gay Star News - November 25, 2016
The Thomas the Tank Engine characters you didn't know were gay (NSFW)
OUT - November 18, 2016
Photographer Matthew Morrocco Explores Gay Identity Through the Generations
The Bay Area Reporter - November 11, 2016
Randy Rainbow hoping for Clinton win
Insider Monkey - November 8, 2016
7 Best Tinder Alternatives For Dating
OUT - November 7, 2016
Scruff Pre-Election Poll Finds 11% of Users Voting for Trump
South Florida Gay News - November 7, 2016
Scruff Poll Results: Hillary by a Landslide; Users Also Love Pot
QSaltLake - November 3, 2016
SCRUFF founder coming to 'surprisingly gay-friendly' SLC to meet app users
Queerty - October 27, 2016
Founder Of Scruff Recalls Severe Antigay Bullying In High School
The Advocate - October 26, 2016
Sex With PrEP, Like Life, Is Never Without Risk
Salon - October 26, 2016
Gay and voting for Donald Trump? It's not as crazy as it seems
IOL - October 26, 2016
Mother City voted No.2 in top cities to visit in 2017
Las Vegas Weekly - October 20, 2016
Las Vegas Pride events: A rainbow of sights and sounds.
Las Vegas Review-Journal - October 21, 2016
Gay entrepreneur found the road to success full of slurs
Bloomberg — October 19, 2016
These Apps Are Perfecting the Art of Getting You to Pay for Dates.
The Huffington Post - October 17, 2016
How to Meet Quality Gay Guys
bleedingcool.com - October 16, 2016
The Surprise Appearance at New York Comic Con.
The Independent - October 13, 2016
I live with my husband and my boyfriend – here's how we make polyamory work
San Francisco Chronicle - October 13, 2016
LGBT Travel: Safely navigating a bigger world.
The Daily Beast - October 13, 2016
Carson Kressley on Bullying, Coming Out, Botox, the LGBT Legacy of 'Queer Eye,' and Knowing Donald Trump.
Washington Post - October 11, 2016
I live with my husband and our boyfriend. Here's how we make it work.
The Advocate - September 30, 2016
Ask Adam: The One Tried-and-True Rule of Open Relationships.
Vice - September 30, 2016
How I Learned To Stop Worrying And Love Being a (Gay) Daddy
QNews.com.au - September 29, 2016
WATCH: Is Your Pet Trolling Gay Hookup Apps, Like This Cat?
LGBTQ Nation - September 29, 2016
Not just for bears and otters anymore: SCRUFF for cats is here!
Delmarvanow - September 26, 2016
Ever-evolving Rehoboth is top LGBT, family destination.
OUT Magazine - September 26, 2016
How to Date a Trans Guy
Metro UK - September 21, 2016
Dating app won't let you say 'party' just in case you're talking about drugs
Attitude - September 20, 2016
Gay hook-up app reportedly bans the word 'party' in an attempt to curb chemsex
Buzzfeed - September 20, 2016
This Hookup App Won't Let You Use The Word "Party" In Case You Mean Drugs
queerty - September 17, 2016
5 Tips To Getting The Results You Love From Your Online Dating Profile
Travel Pulse - September 16, 2016
The 4 Most LGBT-Friendly Destinations in the US.
delmarvanow - September 16, 2016
Rehoboth named top LGBT travel destination
The Hindustan Times - September 8, 2016
In India, dating apps are helping the LGBTQ community find love.
Revista Ladoa - August 24, 2016
13 aplicativos para encontrar o homem dos seus sonhos... (13 applications to find the man of your dreams...)
Vice - August 23, 2016
I Celebrated My Honeymoon at Berghain's Notorious Gay Sex Club.
Bizcommunity.com - August 15, 2016
Cape Town among top gay travel destinations.
Guia Gay Sao Paolo - August 12, 2016
App gay Scruff faz ação durante a Olimpíada do Rio (Gay App SCRUFF makes action during the Rio Olympics)
GNetwork360 — August 12, 2016
Lo que SCRUFF ha aprendido sobre como llegar a consumidores gays a través de sus móviles (What SCRUFF has learned about reaching gay consumers on their phones)
IOL - August 11, 2016
Cape Town shines on LGBT tourism map
NewNowNext - August 11, 2016
Top 5 Most Gay-Friendly Destinations, Named By SCRUFF
WRDE TV - August 10, 2016
Rehoboth Beach Ranked #3 in "Top 5 Off the Beaten Path" LGBT Travel Destinations
The Holland Sentinel - August 10, 2016
Saugatuck has been named in the top five gay-friendly travel destinations by gay dating app SCRUFF.
Lambda Literary - August 6, 2016
Tim Murphy: On His New Book, HIV/AIDS, and How Scruff is a Kinder Place Than AOL Profiles
Medium - August 4, 2016
Reporting from the front-line of gay travel
Fusion - July 19, 2016
Before Scruff: A brief oral history of gay men finding each other online
The New York Times - June 24, 2016
The New York Times features the results of a SCRUFF-NYT survey collaboration on gay travel destinations.
The New York Times - June 20, 2016
Gay travelers on where to go after Orlando.
The Austin Chronicle - June 20, 2016
The 101 on Austin's own SCRUFF models Kyle Kline and Clay White
Towleroad - June 10, 2016
Towleroad reviews Vice's documentary on LGBT life in Pakistan.
Vice — June 9, 2016
A Vice news documentary investigates how SCRUFF helps LGBT guys connect in Pakistan.
The Advocate - June 7, 2016
A how-to guide for a gay guys chatting with trans men on dating apps.
Fortune - June 7, 2016
Fortune Magazine reports on the findings of SCRUFF's California primary SCRUFFtistic.
NBC OUT - June 7, 2016
NBC OUT, NBC's newest LGBT publication, reports on the findings of SCRUFF's California primary SCRUFFtistic.
DatingAdvice.com - May 2016
DatingAdvice.Com chats with SCRUFF's Founder, Johnny Skandros, about all things SCRUFF.
The Wrap - May 10th, 2016
Why So Many Gay Men Are So Hot For Hillary Clinton
Gay Travel - May 10th, 2016
Scruff Navigates Travel Space with New Venture Feature
Man About World - April 27, 2016
LGBT Guide to Business Travel 2016
Fortune - April 19th, 2016
Poll: Gay Voters Overwhelmingly Support Hillary Clinton in New York.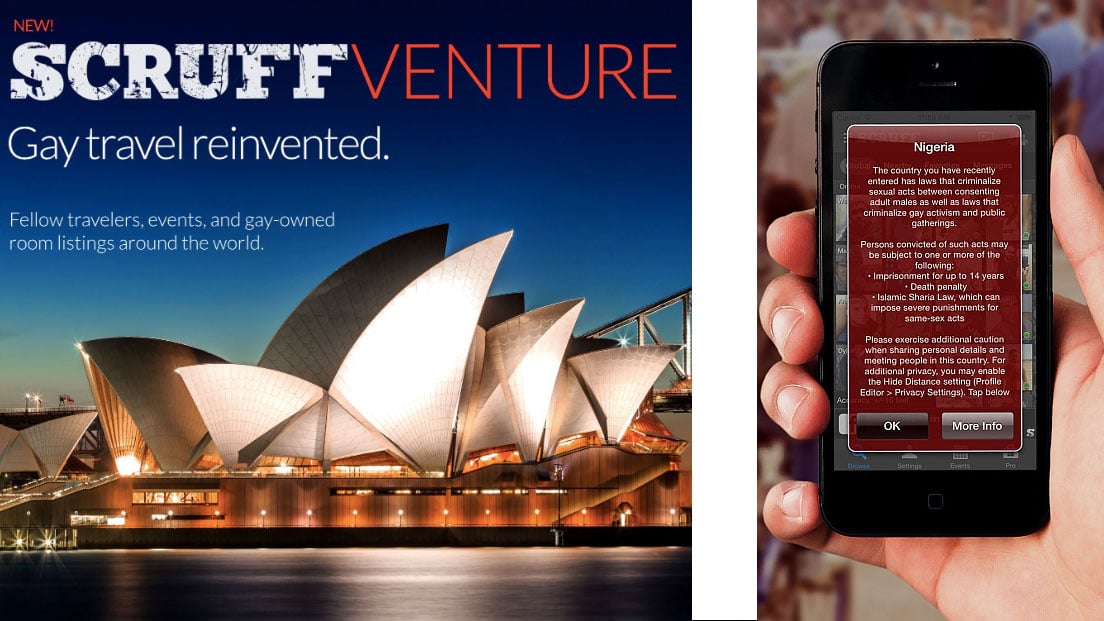 SCRUFF Takes on Cyber Safety - April 5th, 2016
Huffington Post discusses SCRUFF's newer Gay Travel Advisories feature, SCRUFF Venture, and the future of gay social networking.
The Late Show with Stephen Colbert - March 16, 2016
Stephen Colbert Name-Checks SCRUFF
Frontiers - March 17th, 2016
4 Travel Apps to Download Before You Leave Town
LGBTQ Nation – March 1st 2016
Will gay men deliver for Hillary Clinton on Super Tuesday?
MetroWeekly – Feb 29th 2016
SCRUFF users prefer Clinton for president Scruff users prefer Clinton for president
GayStarNews – Feb 26th 2016
SCRUFF users back Hillary Clinton for President
Pink News – Feb 26th 2016
SCRUFF users back Hillary Clinton for President
Instinct Magazine - Feb 25th, 2016
SCRUFF App Reveals Users' Presidential Election Voting Preferences
Gay News Network – Feb 23rd 2016
Less Is More! Strip Off At Sydney's Leading Parties Rezerection and Locker Room
The Eyeopener – Feb 13th 2016
Dealing with realities of coming out at university and beyond
tatar-inform.ru – Feb 12th 2016
(Russian) SCRUFF Venture: Maldives recognized as the most popular destination for honeymoon in same-sex couples
Huffington Post, Feb 12th 2016
Finding Real, Lasting Love In Our "Dating App" Culture
Slate Magazine France, Feb 12th 2016
SCRUFF Was Tested And Given An A Out Of All Gay Dating Apps
MetroWeekly, Feb 11th 2016
DistrktC: Powered by SCRUFF is DC's Newest Premier Gay Dance Party
Washington Blade, Feb 11th 2016
SCRUFF Presents Distrkt C a New Gay Dance Party Debuts
ThinkProgress.Org, Feb 5th 2016
We Know All We Need To Know To End The HIV Epidemic. Here's Why It Continues.
Dailyxtra, Jan 27th 2016
Furrocious: Powered by SCRUFF
NewNowNext, Jan 23rd 2016
Is It Legal To Be Gay Here? Find Out With The New Global LGBT Law Database:
Project Q, Jan 19th 2016
Abel sprinkles his 'Magical' DJ dust on Heretic
The Daily Beast, Jan 1st 2016
Gay Open Marriages Need To Come Out of the Closet
2015
Passport Magazine, Dec 30th 2015
Using Gay Social Networking Apps When Traveling
Washington Post – Jan 26th, 2016
With a little pill, could one city's AIDS epidemic be ending?
Playboy, November 2015
Gay Dating App SCRUFF Can Help You Hook Up with ''Rock Band 4'' Bandmates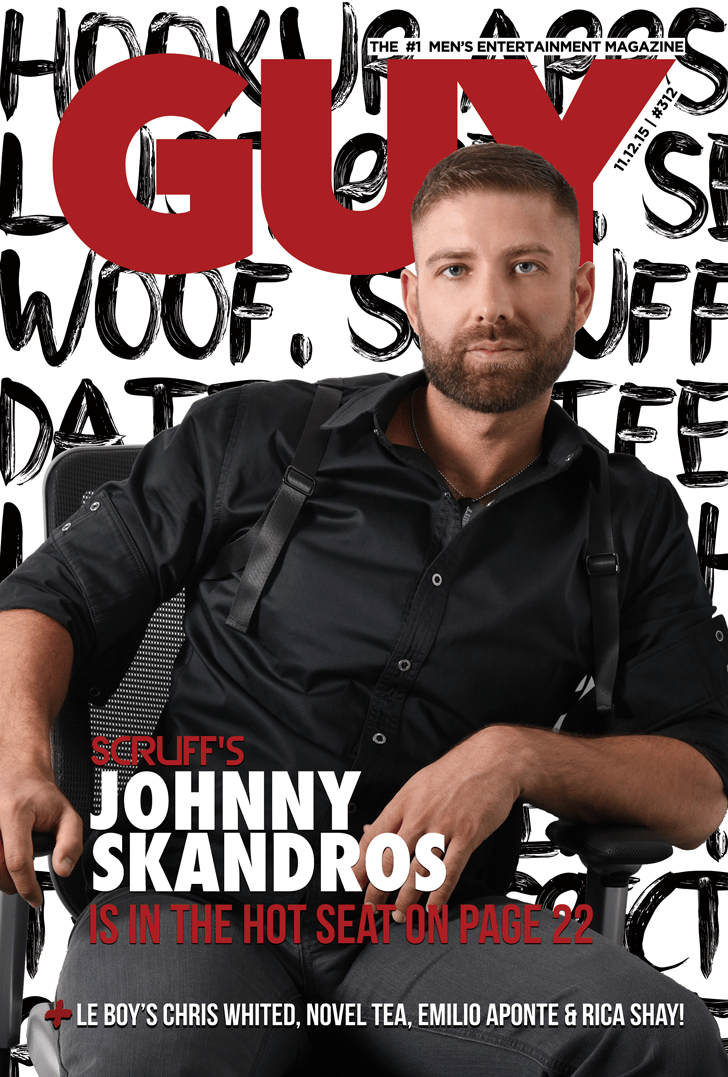 GUY Magazine, November 2015
Dear Johnny! A Q&A With SCRUFF's Johnny Skandros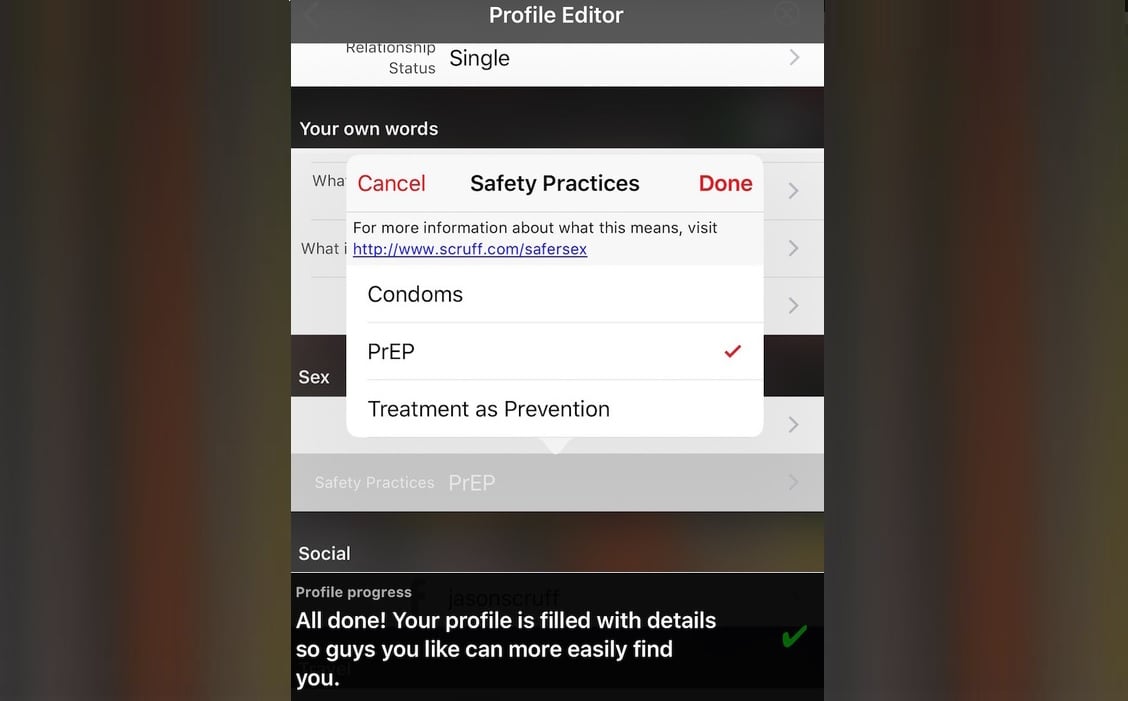 Vocativ - November 2015
Gay Dating Apps Are Leading The Way On Safer Sex
New York Times, October 2015
SCRUFF Venture - A New Feature for Gay Travelers That Focuses on the Social - New York Times
AIDS Healthcare Foundation, October 2015
AHF Commends SCRUFF Mobile Dating App For Free STD Testing Ads
U.S. News & World Report, September 2015
5 Things Every LGBT Traveler Must Know Before Going Overseas
Gay Star News, September 2015
Meet the man behind Scruff
Next, July 2015
Scruff Turns Five, Still Makes Us Woof
io9, July 2015
Midnighter is The Best Portrayal of a Gay Superhero in Mainstream Comics
Entertainment Weekly, June 2015
A night out with Billy Eichner, Jonathan Groff and Andrew Rannells
The New York Times, May 2015
Gay Dating App's New Alert: Hooking Up Is Illegal Here
Towleroad, May 2015
SCRUFFtistics: Scruff Ranks Cities and States By Body Hair
Instinct Magazine, April 2015
SCRUFFtistics: Which Cities & States Show The Most Face Pics On Gay Apps?
Windows Central, April 2015
SCRUFF re-launches on Windows Phone 8.1 with paid tier, Cortana integration and more
Metro, February 2015
The gay dating app Scruff hopes to shift focus from hookups to relationships with new feature
Newsweek, January 2015
Gay Dating App Scruff Puts 48-Foot Billboard Near Super Bowl Stadium, Sees Usage Uptick
Daily Beast, January 2015
Trans guys feel valued on SCRUFF
2014
San Diego LGBT Weekly, December 2014
SCRUFF's 12 WOOF's of Christmas with Johnny Skandros
Quorum Columbus Magazine, December 2014
Q & A with SCRUFF's Johnny Skandros
Huffington Post Gay Voices, December 2014
Beyond 'HIV Status': Interface Design Is Personal at SCRUFF
So So Gay (UK), December 2014
World AIDS Day – The apps that changed the game
TimeOut New York, November 2014
The best apps for New York City
Bay Area Reporter, October 2014
AIDS groups, app reps discuss outreach
POZ Magazine, October 2014
NMAC Partners With Gay App Scruff to Promote HIV Awareness
Huffington Post Gay Voices, September 2014
Privacy, Security and GPS-Based Apps: An Inside Look From SCRUFF
Towleroad, September 2014
SCRUFF Introduces Free Ad Space for Non Profits to Reach LGBT Community
Adweek, August 2014
RuPaul Dresses Up Product Placement
PR Week, August 2014
Scruff brings on MWW as AOR
Odessy, April 2014
SCRUFF in Ru Paul's Drag Race
Gay List Daily, February 2014
Scruffing It
SBNation: Outsports, February 2014
SCRUFF saves the day in Moscow. Twice.
Towleroad, January 2014
Scruff Launches Gay Slang Dictionary With Foreign Language Translations
2013
Huffington Post: Gay Voices, December 2013
Why Beards And Scruffy Facial Hair Are Becoming More Popular Among Gay Men
Exame, December 2013 (Brasil)
Scruff, app de paquera para o público gay, chega ao Brasil
Las Vegas Weekly, September 2013
For Scruff Founder Johnny Skandros, It Really Did Get Better
MetroWeekly, August 2013
Making the #Switch
The Stranger, August 2013
Line Out: Interview With Johnny Scruff
Queerty, July 2013
Will SCRUFF Be The Only App To Be Trans-Inclusive?
David Atlanta, April 2013
Woof! Johnny Skandros Hooks Up with Atlanta
Queerty, April 2013
PHOTOS: Scruff's New Model Will Be in the Palm of Your Hands
Montrose Star, February 2013
SCRUFF Invades Houston
Huffington Post, January 2013
Scruffy, Scruffier, Scruffiest: The New Look Is More Than Just a Fad
2012
MetroWeekly, August 2012
From coming out online to meeting all the party people, Scruff's Johnny Skandros has brought new meaning to the term ''Woof''
Vice, October 2012
Supporting the troops
Queerty, June 2012
APP FAB: Hooking Up With SCRUFF's Johnny Skandros
---
For media inquiries, please contact SCRUFF at media@scruffapp.com